Ethan Pole

Owner / Guide / Instructor / Photography / Media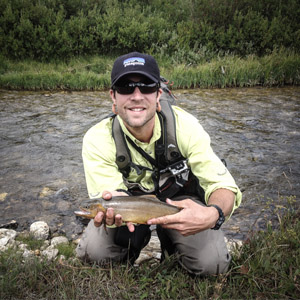 I first learned to fly fish at a young age of 9, angling on rivers in Montana.   As a young man I moved to the "Driftless Region" of Northeast Iowa and discovered this "Gem" of a fly fishing region."E" is what my friends and wife (Auny) call me on and off the river. We have 4 small children (3 Fly Gals, 1 Fly Boy). I'm driven by fly fishing waters everywhere and I have a real passion for the streams in the driftless region. I indeed, love the teaching and learning aspect of this sport! It takes a consistent dedication to the process. I guess you could say I have a teachers approach to everything I do. I hold back no secrets, I just like showing new ways of getting things done a better way! My goal every time when with a person on the river is to give the the best "Driftless Experience" I can give them; whether it's teaching the pure "technical" ways to catch spooky trout, tie advanced rigs, get a drag free drift- or to help someone catch that first fish and capturing the moment with you.  I'm totally addicted, I'm a "Trout Addict" – I love the art and lifestyle of fly fishing and my days casting a rod. I look forward to joining you on the water someday – Clear Eyes & Tight Lines "E".
Jason Skoda

Guide / Instructor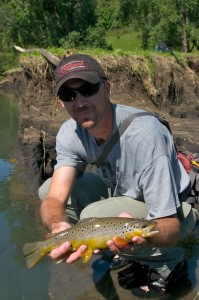 Jason grew up fishing the trout streams around Decorah with worms and bobbers.   After buying his first fly rod in '98, he spent almost every day for two months trying to catch fish (which he finally did).  Years later while on a fly fishing trip to Yellowstone National Park, an add in a local paper said "Do you want to land your DREAM job?"  Soon after the trip, Jason was back in Montana attending the Sweetwater guide school which helped him land his dream job.  Jason spent 2 years as a fly fishing guide at the 4UR Ranch in Southwestern Colorado and that experience opened his eyes to the enjoyment of helping beginners and experienced fly fishers learn new water.  Jason remembers what it was like to be at the beginning of your fly fishing career, and will help you learn and understand what it takes to catch your first fish.  He also has the insight and knowledge to help the most experienced angler maximize their chances of success.